About Us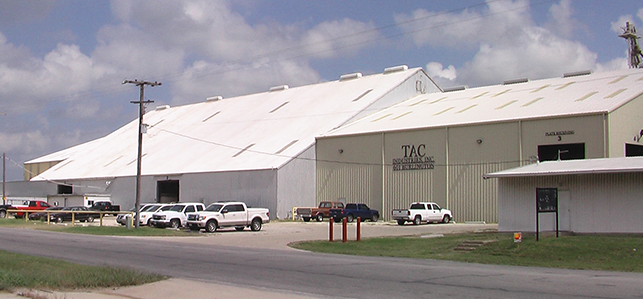 Our History
 In November 1975, a father and son decided to Take A Chance and create a metal and plate fabrication company, TAC Industries, Inc. They chose Saginaw, a suburb of Fort Worth, Texas to easily serve customers all over the country.
Originally started as a fabricator, the business expanded to include on-site contracting. In 1992 the decision was made to concentrate on fabrication only. Since then, TAC Industries has fabricated a wide variety of products, including specialized process equipment, delivered to clients all across the United States, as well as Canada and Mexico.
When TAC Industries first opened, there were only 24,000 square feet of fabrication space inside the empty shell of a building with no power or overhead cranes. Today, after two major expansions, there is over 47,000 square feet of fabrication space with 3 overhead crane bays utilizing 5 overhead cranes.
Throughout the years, TAC Industries has built up a vast array of capital equipment to allow the servicing of customer orders in a timely manner. Recognizing the importance of advances in technology, TAC Industries remains committed in updating equipment and software requirements as necessary. This constant innovation allows our business to grow with your business.
Our Culture
Serving the unique needs of our customers, by providing quality metal and plate fabrications at a competitive price and, in a timely manner, ensuring the continued success of our clients and our company.
Our Quality System
It has always been the policy of TAC Industries, Inc. to provide products and services that consistently meet or exceed their customerís needs and set the company apart as a quality leader in the metal fabricating industry. As such, TAC Industries will gain the customerís trust and meet or exceed its customerís expectations by constantly providing quality, timely delivery, and responsive service while continually upgrading its knowledge, skills, and capabilities.
TAC Industries and its employees accept responsibility for putting the needs of our customerís first, maintaining a safe work environment, and providing products which meet the highest standards in our industry. As part of its desire to respond to its customers and be a leader in the industry, TAC Industries has implemented a quality program to maintain and evaluate its services while looking for new ways to make those services more beneficial and desirable to its customers.